Sexting is Safe Sex Without All the Hassles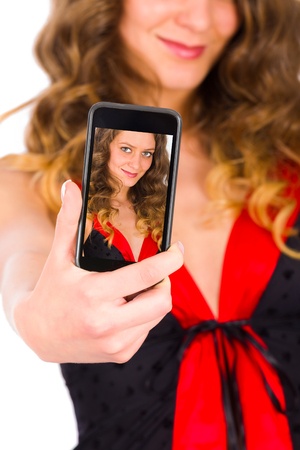 Sexting is safe sex. It's true, safe sex is still one of the biggest issues facing any sexually active adult.  It's not just about making sure you don't contract some horrid STD, it's about being physically safe with the person you're having sex with. Did you ever think about sexting as safe sex?
When it comes to safe sex it doesn't get much safer than sexting.  With sexting you can carry on an entire sexual relationship with one or many partners and you don't have to worry about condoms or the exchange of bodily fluids.
You also don't have to worry about running into one of your lovers while you're out with someone else.  Awkward! You're starting to get the idea that sexting is safe sex.
The pros of sexting
One of the great things about sexting is that you control where it's going.  Sexting is safe sex and it should be for everyone involved. Set some ground rules before you even start.  You decide if you want to just message or if you're going to include pictures.  Then if you don't like what's being said by your sexting partner you just simply tell them. You don't have to worry if they're going to get it.
And you can sext anywhere, anytime that you want.  Say you're on the train heading for work and it's a long boring commute.  Hit up one of your sexting buddies and spend that time working each other into a frenzy.  Of course then you'll be horny all day at work, but that can be part of the fun.  Slip off to the restroom on your next break and take care of business, no one has to be the wiser.
Sexting is also a safe way to explore ideas of sexual kinks before you're ready to engage in them physically.  When you sext you can let go of your inhibitions and just let yourself feel and be sexy.  Michelle Drouin, Ph.D., psychology professor at Indiana University–Purdue University Fort Wayne says, "Sexting is a simple way to spice things up and expand sexual boundaries."
Sext your partner that you want to have sex in public, or that you want to try anal sex.  If you aren't ready emotionally you will know before you are in the position of having to tell someone face to face that you've changed your mind.
Other Aspects of Sext Messages
You won't have as much at stake with sexting as with a face to face meeting.  You don't have to worry about being judged on the way you're wearing your hair or if they don't like your voice.  It's easier to break off a sexting relationship than an actual in person relationship.
There's also the aspect of sexting that makes it so easy to have multiple partners.  It's discreet if you take the right precautions.   If you wanted to you could have three or four different sexting partners on the go at the same time.  No one is going to know unless you tell them.  Just be sure you protect your phone and trust your sexting partners.
So it doesn't matter if you're sexting with more than one person. Using sexting as a lead up to a more personal relationship. Sexting with your spouse is a great way to spice things up.  Sexting is safe sex and can be used as a way to get the sexual satisfaction you crave without all the risks.