Sext Etiquette – Really!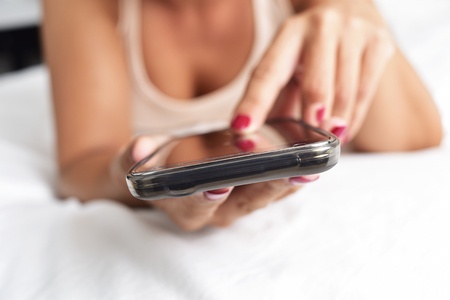 Did you know there is a certain sext etiquette? If you love sexting you'll be aware that it is a sort of modern day version of the love letter, or homage to the one you find irresistible.  It is fun and thrilling to send sexy messages to the object of your affections. The anticipation of awaiting the response can drive you into a frenzy of excitement. Men love to sext, probably more than women, but then, who knows for sure?
When you first attempt a sexting marathon with someone, you probably would approach it in the same way you would if you were in a bar or store. You spot the one you like, flirt a little to see where you might stand and take it from there.  You've got to test the water, right? It never hurts to try, but it would be sound advice to suggest you stay away from bad clichés. Avoide 'heeyy, how YOU doin'?' (Yeah, the one with Joey! Let's not go there).
Sext Etiquette: Be Cautious, But Not Too Cautious
Start by being a little cautious. This is an important element in sext etiquette. You don't want to scare her (or him) off.  Also, never say anything in text/sext that you wouldn't say to their face, presuming you have seen their face. Remember that the person you are going to be flirting with via your mobile phone is a real person with real feelings. Exercise a little protocol to start with and keep it real. You don't want to give a false impression of the person you truly are, if you are hoping to take your sexting experience into the real world. Be a gentleman (or lady) with your language and behavior at least until you know you're making the right impression.
There are also some rules about sending an unwanted or unsolicited sext message.  You really don't want to send a sext message to someone without their permission and then find out their grandma was using their phone. Always make sure you are on the same page as the person you are intending to sext with.
Sext Etiquette: No, not porn — not yet!
It will be too soon to start sending pictures, so seduce with words first. Show that you have emotions and imagination and a fairly solid vocabulary. Starting out with something crass like 'I can't wait to bang you later' is not going to win you points! Rather, it might get you blocked. Start with something romantic like 'when I see your glistening eyes it makes me shudder with joy'. Oh go on, you can use that one if you like!
Stay away from pornographic words and images in the beginning. Otherwise you are more likely to lose your audience. Maybe later on, when you have established something more deep and have an understanding of each other. It sort of runs in line with creating a real life relationship and if that is your intention or you are already in one and this your 'spice' then do it well.
Once you have got that and you are both enjoying the flirty sext experience, you can move forward and possibly start sending pictures. Just be sure to abide by our simple sext etiquette guidelines and you'll soon be sexting like a pro! If you're ready, go check out our sext message ideas to get you started right away!