Sext Message Ideas to Tantalize!
Creative sext message ideas can make or break your sexting experience. Seems like everybody is sexting these days.  So whether you already know the person you're sexting or you have yet to meet in person, you want to be good at it.  You want to capture their attention and spark their fantasies. Here are a few creative sext message tips to get those sexting juices flowing.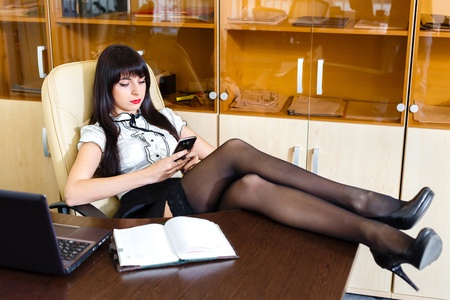 It doesn't matter if you're a guy or a girl, don't just jump straight to the punch line and tell them you want to do them up against a wall. Not unless you know this is what turns them on.  Review our sext message ideas for sexy ideas. Start off being flirty and a bit of a tease.  Let them know you can't stop thinking about them.  Tell them that you keep getting distracted at work because you keep imagining what it's like to kiss them.
Sext Message Ideas: What Are You Wearing?
Talk about what you're wearing, or what they're wearing, but try to AVOID asking that way overused question, "What are you wearing?" Not unless you want to make them laugh, even though laughter can be sexy. If you've met describe an outfit you've seen them in and liked.
Tell them that you're really uncomfortable in your jeans because thinking about them is getting you hot. Or at some point in your sexting just let it slip what you might not be wearing under your clothes. Going commando in certain circumstances can be highly sexy.
Sext Message Ideas: Places, Roleplay and Kinks
Describe a place you'd love to get busy in. The balcony of your apartment, the top floor of a parking garage, or even a quickie in the bathroom at their parent's house.  Make it risky and be creative in how you'd keep from getting caught while getting each other off.
Role play isn't just for physical sex. You can role play over text just as well as in person.  Pretend you're a wrong number but then start telling them how really horny you are and there's no one home to help you out.  Or maybe you're texting them as a reminder to pick up a prescription…a prescription for hot and heavy sexting.
Throw a little extra kink into your sexting. Be submissive and beg them to let you please them, and if they're receptive you can describe just exactly how good you will be for them.  Or flip the coin and order them down on their knees like a good little sex toy.
If you know the person you're sexting, either personally or because you've sexted them before, play up to their fantasies. Perhaps they love the idea of getting a spanking, so tell them just how you would turn them over your knee and paddle them good.  If you're new to each other asking them about their wildest sex fantasy can be a turn on in itself.  Especially for women, they love to know that you're interested in what turns them on and that you're willing to play along.  It's even better if you let them know that what turns them on gets you hot too.
Sext Message Ideas: Questions and Communication
Don't hog the sext. Make sure you give them plenty of opportunities to reply. Ask them questions, like "What would you do if you had me alone right now?" or "Don't you wish you had me on my knees?" This can open up the way for them to really get into your sexting session.
Be sure to let them know if what they are saying is turning you on. It can be hard to read people through text messages and you need to let them know if they're going in the right direction.  At the same time, if you don't like what they've just texted you let them know that too.  Just like in any kind of relationship, if they don't know they can't change it.
Sext Message Ideas: Share Your Sexy Pics!
There's a whole other realm of ideas for pictures.  Again, if you would like them to send you pictures don't go for the overused phrase, "Send nudes." What's sexy about that?  Tell them that you've been thinking about their hot body all day and just wish you could have a peek.  Let them know how much you want to see them, or at least part of them and how horny it makes you.  If you're the one sending the pictures, be classy.  Unless it's something the two of you have already agreed is what you like, don't go straight for the naked crotch shot.
If you're a woman send pictures of your cleavage in lacy bras, or your bum in a thong.
If you're a guy go for the erection in the boxers shot or the just got out of the shower chest pic. A word of warning is in order. Unless you really trust that the person you are sexting isn't going to share your pictures don't show your face or anything that can be used to identify you.
So there you have it.  A few sext message ideas and suggestions on getting your sexting groove on.  The main thing is just to relax and have fun.  Sexting can open up a whole new world of pleasure.
Here's a couple pages you might be interested in for more sexting ideas: